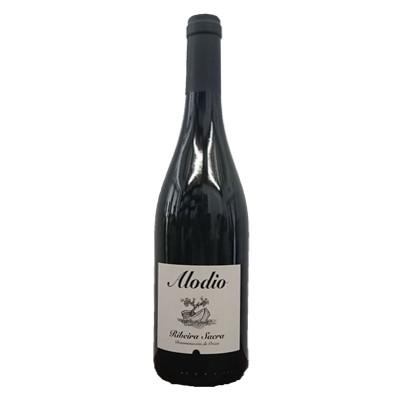 Alodio Ribeira Sacra 2016
Crunchy and vibrant summer fruit with a peppery twist at the end
Grape Varieties
Mencia is a north-western Spain variety that gives light, fruity, soft tannin reds with raspberry and blackcurrant leaf flavours, reflecting the soils in which it is grown.
Thin-skinned Merenzao, adds freshness and fruit to the blend.
Brancellao the latest to ripen, provides distinctive floral (Jasmine) and vegetal notes (fig leaves).
Tasting Notes
Aromatic with a hint of peppery spice and vibrant minerality. Very fresh with exuberant black & red summer fruits. Dry finale, but appetising and clean-cut
Ribeira Sacra
Nestled in the rugged, north-western corner of Spain lies one of the country's most recently formed DO's, Ribeira Sacra. Formed in 1998,
Ribeira Sacra is home to an intrepid collection of winemakers who strive to produce the most Caracterful wines possible from the precipitously steep and stony vineyards that characterize this region.
The Vineyard
Carlos Costoya, (a professional artist by day), is one of a new breed of Ribeira Sacra winemakers who aim to produce that rarest of beasts, a Galician red wine which does not cost the earth.
The 3 Hcts of Alodio come from a small block of 27 vineyard plots in A Teixeira, Ourense, many of which have been producing vines for centuries.
He relies on tradition as very effective plot selection tool for viticulture and one that minimises frost occurrences.
The poor soils of his vineyards help to impart minerality to Alodio as they force the vine to dig deeper hitting the slate soils which lie deep below the alluvial layer.
Wine Making
Carlos does prefermentative cold maceration for 4 to 12 hours adjusted to the condition of the vintage. This helps to extract colour, tannins and aromas from the skin. He employs a precise and gentle hydraulic press which avoids crushing the pips preventing the bitter oils inside them.
REVIEWS