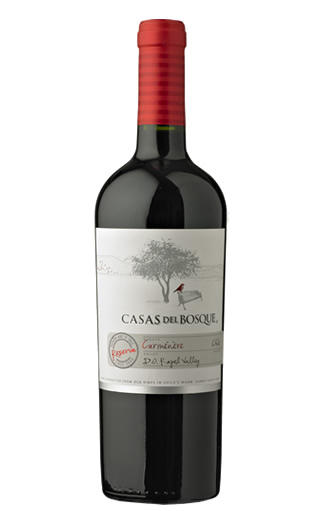 Casas del Bosque
Casas del Bosque Reserva Carmenere 2016
Producing ripe, complex and medium-full bodied wines, Carménère is fast becoming Chile's 'signature variety'. This wine is slightly gamey in nature,  lots of black fruit on the palate but with so much more besides. Soft tannins add to the complexity of the wine and subtle oak-ageing means that the finish is smooth and harmonious.  Ideal with casseroles and other red meats, it woukld make a pefect match with Cassoulet. .
Family owned winery Casas del Bosque was founded in 1993 by Juan Cuneo Solari. The son of an Italian immigrant, he had always dreamed of having his own vineyard and chanced upon an area of the Casablanca valley, 100k due west of Santiago, with its pine forests, olive groves and small, white abandoned adobe houses. He chose to name the winery Casas del Bosque, or "Houses of the Forest." Winemaker Grant Phelps is evangelical about translating the character of the vineyard and grape in to the final wine, using longer than average skin contact to extract extra flavour from the grapes.
Casas del Bosque make their reds which need a warmer climate in the Rapel Valley, SE of the capital Santiago, which is more sheltered than the Casablanca Valley and so suits varieties such as Carmenere or Cabernet Sauvignon. Carmenere, a relatively obscure variety which originates in SW France, was taken to Chile in the 19th century and is now being recognised as very suitable for the soil and climate in many regions of Chile. It also has the advantage  of making wines which are interesting and complex but not too tough nor tannic (compare Tannat in Uruguay whose wines are not so commercially successful in the UK).
REVIEWS