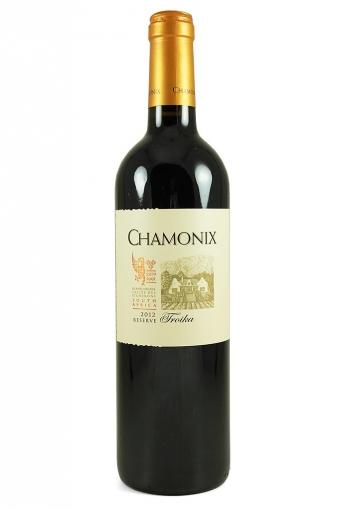 Cape Chamonix
Chamonix Troika Reserve 20114/15
The Chamonix Troika (meaning: Russian sleigh pulled by three horses) has deep ruby mulberry colour when young, with scents that recall vanilla, sweet ripe cherries, blackberries, cinnamon and other spices. The wine is amply structured, full, round and smooth on the palate with rich fruit and berry sensations, fine harmony and length of flavour.Although impressive young, it should reach a prime at 10-15 years.
Steeped in history and boasting some of the highest planted vineyards in the Cape, Chamonix is set amongst 300 hectares of pristine natural beauty on the Eastern slopes of the Franschhoek mountains. Today, Chamonix is known for its wonderful setting and abundant facilities, as well as award-winning wines and spirits, and pure Spring Water.
Since being acquired by German-born entrepreneur and adventurer Chris Hellinger two decades ago, the estate has undergone tremendous improvements, and offers visitors a host of culinary and recreational options in spectacular surroundings.
From the secluded Forest Lodge overlooking scenic Franschhoek Valley to the renowned Racine restaurant, from our diverse wedding facilities to the wide array of fine wines, spirits and other delights on offer, everything we do at Chamonix is done with love, passion and an unwavering attention to detail.Boasting some of the highest planted vines in the Cape Winelands, Chamonix has around 50 hectares under vineyard.
As purists we have always believed that to produce a wine of true character, it is essential that nature be the primary winemaker. Our farm is blessed with cool breezes during the hot summer months and stony, clay-rich soil, giving our wines their unique personality and style. A philosophy of minimal intervention and environmentally conscious farming methods are just some of our secret ingredients.
All our fruit is hand-selected, and we follow traditional methods such as making use of spontaneous fermentation and no acidification. Organic compost and mulch are ploughed back into the soil, while our use of green-harvesting (low yields per hectare) ensures that our vineyards are not over-produced.
Our philosophy of working hand-in-hand with nature to create unique wines and spirits carries through into the cellar, where our small, hands-on team approach their work with passion and creativity. The end result is a product that is pure, natural and made to be enjoyed.
GRAPES
Cabernet Franc 40%
Cabernet Sauvignon 38%
Petit Verdor 12%
Merlot 10%
VINIFICATION & AGING
The grapes are bunch-selected and berry-sorted by hand on sorting tables. Grapes are soft crushed and the must fermented in stainless steel and concrete fermenters at 28° C for 12-22 days on the skins with frequent pumping of the cap.
The batches are assembled before bottling to enhance the complexity of a wine of about 14.5% alcohol that is cellared for at least 6 months to a year before release.
REVIEWS