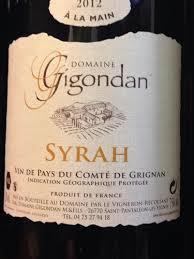 Domaine Gigondan Syrah Comte de Grignan Vdp 2014
Savoury Syrah, ripe blackberry and damson fruit on the palate, much more appealing than many examples from the northern Rhone, this is another wine from the little-known Comté de Grignan: please appreciate the wines but keep it quiet otherwise we'll see a situation like Gigondas, some of which sell for more than Châteauneuf now!
A family owned estate for seven generations, extending to the municipalities of Saint Pantaléon les Vignes in Drôme Provencale and Valréas part of the Enclave of the Popes in  the Vaucluse.
......."The most noble grape varieties of the Côtes du Rhône appellation are represented in the vineyard. Grenache, which is the majority, expresses itself in all its fullness on this soil burned by the sun; it brings to the cuvées tannin, body, alcohol and the finest aromas that develop during aging. It is accompanied by moderate amounts of Syrah for the color and wild aromas, Cinsault for its finesse and fruity, Mourvèdre and Carignan.The vineyard leads to the old, in reasoned culture, covers 35 hectares. The diversity of siliceous schist soils, clay-limestone hillsides and sandy depressions explains the richness of the terroir and its personality which earned it the name of Côtes du Rhône Village Communal which is also the legitimate reward of a wine-growing past borrowed from respect for the tradition attached to the quality of wines and concern for their reputation. In addition to the vine, the majority, we grow lavender and apricot Domaine Gigondan."
REVIEWS