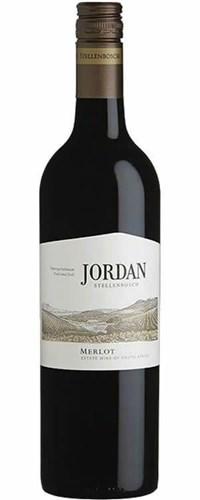 Jordan Black Magic Merlot 2014/15
Mature vineyards yield opulent fruit with plum, rich blackberry and mocha flavours. Framed by generously rounded tannins and spiciness from maturation in French oak, this wine is seductive from start to finish. Perfect with fillet or game meats.
Jordan Estate – Stellenbosch, Cape Province, South Africa Gary & Kathy Jordan and their children own and run this medium-sized estate in Stellenbosch, which has been in the ownership of the family since the late 1970's. Gary is a geologist by training, Kathy an economist but they both studied winemaking as well at Davis University California. Benefitting from a variety of soils and aspects, plus different altitudes, they are able to plant a wide variety of grape varietals, ranging from Sauvignon and Chenin Blanc, to Riesling and Chardonnay, then in the reds, Cabernet Sauvignon, Merlot, Syrah and Shiraz. The wines produced range from entry level whites through rosé to top-level red. Indeed their top wine Cobblers Hill, a Bordeaux blend of Cabernets Sauvignon, Franc & Merlot, regularly wines prizes, as does the top white Nine Yards Chardonnay. They even produce a dessert wine, Mellifera Botrytis Riesling, made from grapes grown at the highest point of the estate. There is something for everyone in their range!
Fermented in overhead retort-shaped, stainless steel fermentors at 26-28ºC. Pump-overs were done three times daily over the fermenting cap. A small portion received extended maceration while the remainder was pressed immediately after fermentation. The wine was racked into barrels from the second week of March where it underwent malolactic fermentation. After further racking it spent 18 months in new and second fill 225 litre French oak barrels.
Accolades:
Bronze DWWA 2014
REVIEWS