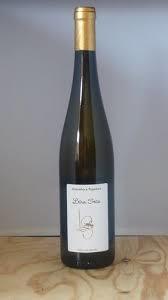 Leira Seca 'Escolha' DO Minho 2016
The wine has a bright, clear citrus straw colour with greenish glints. The nose shows is fruity with aromas of lemon and lime citrus fruits. The palate is robust, yet elegant, with traces of tropical fruits, crisp freshness and a good, clean, lengthy finish and at only 12% makes for a very handy lunch time drink.
Leira Seca is a white wine blend made from Alvarinho and Trajadura grape varieties and is produced by Manuel da Rosa at Encostas de Paderne. Albarino is the very well-known grape variety of the North West of the Iberian peninsula. It is best known from the region of Rias Baixas in Galicia, Spain but it also makes some great wines in Portugal in the Alto Minho region where it is known as Alvarinho. Albarino / Alvarinho has a very thick skin and this helps it to withstand the area's particularly damp climate and contributes to its intense aromas and great acidity. Encostas de Paderne has 10 hectares of vineyards planted in 15 parcels on the slope of Paderne near Melgaco, in the Alto Minho. The vineyards are mainly situated along the banks of the Minho River, the natural border of Spain and northern Portugal. The vines are mostly over 20 years old, the climate has a strong Atlantic influence and the soil is predominantly sand over a granite base which gives great drainage. Vineyards are managed with a low input and on an environmentally friendly basis (minimal usage of insectides, pesticides etc.). The vines are trained on a unilateral cordon and there is systematic removal of the vigorous leaf canopy to allow the sun to get to and fully ripen the grapes for the Leira Seca. The wine maker is Fernando Moura.


REVIEWS