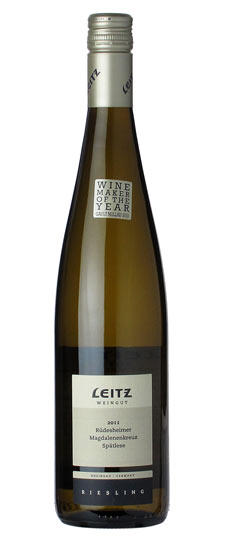 Leitz
Leitz Rudesheimer Magdalenenkreuz Riesling Spatlese 2013
The exotic flair of this Riesling is composed from the aroma of lemons and limes, slight mint echoes, as well as a touch of lychee, tarragon, banana, pear and pineapple. Everything is awash with a vigorous residual sweetness and this, combined with a delicate fruity acidity, allows the flavors to melt beautifully slowly on the palate. The Magdalenenkreuz is a refreshing wine, which makes the water run in your mouth. Perfect for Asian cuisine, and to accompany everything that is fruity, sweet and sour, hot and intensively seasoned with chili, star aniseed, coriander, ginger, soy sauce and sesame oil. Magnificent with apple strudel and custard.
The Rheingau Region is the only point where the Rhine river flows from east to West as it encounters the Taunus mountains. For 30km it flows due west, exposing a vast south facing slope, which gets progressively steeper as it moves west. It is only the last 6km, from Rudesheim onwards, where Johannes plies his viticultural skills.
One speciality and definitively the strength of Leitz winery is the strict collection of first growth Riesling vineyards combined with low yields and highest standard vineyard management.
REVIEWS