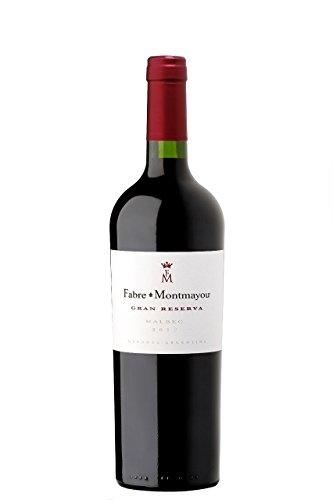 Montmayou
Malbec Gran Reservado 2014 Fabre Montmayou
This is rich, heady and full of inky blackberry aromas and notes of graphite, balsam wood, tobacco and coconut. A lush, mile-deep palate offers chocolatey flavours of blackberry, roasted meat and salt. Ripe black-fruit flavors dominate a lush finish.Perfect with a juicy steak, game, rich cheese and chocolate deserts.
Argentine Malbec is very much today's hot favourite thanks to the sheer power, intensity and smooth depth of the wines. This velvety Gran Reservado is one of the best, made by Bordeaux's Hervé Fabre, a Malbec pioneer with Trophies to his name.
One of the finest Malbecs of Argentina, with a history of Golds, Trophies and top Parker points. It's the work of Hervé Fabre, who was born in Bordeaux, but decided to buy an estate elsewhere. He fell in love with Argentina's old Malbec vines before the style became fashionable - indeed his wines were some of the first - and bought a 90 year old vineyard in the 1990s. This sumptuous Gran Reservado is made from the hand picked fruit of 40 year old vines in Mendoza, a region with "the terroir to produce not just good but truly great Malbec" (Decanter). As Wine Spectator notes, "This South American nation is one of the biggest wine success stories of the past decade." Matured for a year in oak, this rich red is best with roast beef or lamb.
REVIEWS