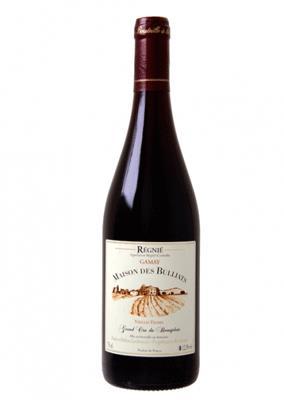 Regnie Domaine des Bulliats 2015
Maison des Bulliats Régnié has a clear deep ruby red colour with hints of violet, and a wonderful nose of fruits of the forest and rubbed bramble leaf. On the palate it is medium bodied, fruity and sappy, with lots of dark crunchy brambly fruit, spice, and a hint of liquorice. The finish is long and complex, with lots of red fruit and spice. It is a versatile wine which serves as a light but structured accompaniment to red meats and poultry; ideal with your summer barbecues.
The Maison des Bulliats and its eight hectares of vines are situated in the stunningly beautiful wine growing region of Beaujolais in the South of Burgundy, France. The impressive twin-spired church of the local village of Régnié-Durette dominates the surrounding landscape of rolling hills and gentle slopes, showing off neat rows of Gamay grape vines whose patchwork of colour is a constantly changing delight with each season. The Romans planted the first vines here, and Reginus was the nobleman and local governor whose name lives on through the village and its Cru status wine.
Since 2005, the property has been owned and loved by Fred and Helen Lockwood and their two sons. This enterprising family now know their vines well and are sensitive to the taste differences between the 'parcelles' which make up their property, what the French colourfully call the 'gout du terroir'. The average age of their vines is some 50 years which allows the classification 'vieilles vignes' (old vines) to be used, indicating a mature grape of greater subtlety. The family knows which vines rest on which type of soil, some being granite based while elsewhere on the property the soil is sandier. All these factors influence the 'goût du terroir' and enable the production of finely balanced blends
REVIEWS