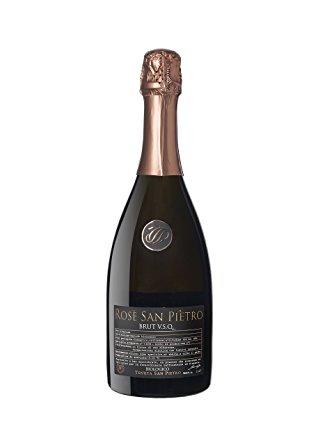 Tenuta San Pietro
San Pietro Rose Brut V.S.Q.
Made from 100% Albarossa grapes, the red grapes are gently pressed and the fermentation is carried out as though it were a white wine using natural yeasts. albarssa is a little known local red variety which adds a certain character to this sparkling rose. The grapes are grown at an altitude of 300 metres  and organically cultivated. Only 7,000 bottles are produced each year. This is a delicate rose which would suit those who like rose champagne: it is pale pink in colour with delicate aromas of summer fruits and has a fresh, refreshing palate. Flavours of strawberry and redcurrant combine with the yeasty characteritics of sparkling wine. 
Tenuta San Pietro is situated in Tassarolo in southern Piemonte, home to the top Gavi producers. The hilly terrain and chalky/limestone soils suit the cultivation of the Cortese grape particularly and several of the best prodcers are cultivatiing their vineyards along organic lines. Tenuta San Pietro operates a limited yield policy which means that th wines have more character and definition.
REVIEWS