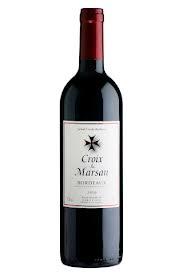 Croix de Marsan Grand Vin de Bordeaux 2017
A lovely garnet red in colour. The nose evokes red berries and black fruit, with subtle toasted notes. The attack is supple, with a round mouthfeel and mellow tannins.This modern Bordeaux can accompany a great variety of dishes thanks to its fruitiness and suppleness.
Pierre de Marsan was a descendant of the Viscounts of Marsan, founders of the town of Mont-de-Marsan in the Landes department. In 1630, he married a wealthy heiress whose dowry included a large property in Lestiac. This estate began producing wine in the 17th century.
The Gonfrier family purchased this property in 1962, extending its vineyards over the coming years. Château de Marsan is the company's flagship wine estate.
Average vine age : 20 years
Sustainable farming methods are applied to the entire vineyard, which enjoys Haute Valeur Environnementale ("High Environmental Value") certification.
Grape varieties : 70% Merlot, 20% Cabernet Sauvignon, 10% Cabernet Franc
Average vine age : 20 years
Ageing : During 6 months in American-oak barrels and 6 months in tanks.

Medals & Awards:



Gold Medal, Guide Gilbert & Gaillard 2016
REVIEWS