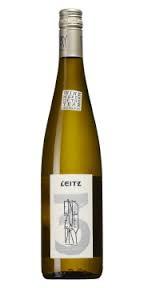 Leitz
Leitz Eins Zwei Dry Riesling Trocken Rheingau 2016/17
EINS-ZWEI-DRY is the Riesling that provides an entry into the Leitz world of wine. This wine is a cross-section of various Rheingau loess and clay soils with an appealing dry character. The bouquet is characterized by a clear apple fragrance, a hint of kumquat and apricot together with a touch of lime blossom. On the palate the mature fruity acidity emerges, which lends the wine a powerful boldness, allowing it to culminate in a smooth, succulent finale. "EINS-ZWEI-DRY" is a Riesling for celebrating and having a good time. It goes well with Waldorf salad, pepper braised in olive oil with anchovies, grilled prawns, and quiche Lorraine.
The Leitz estate, run by the dynamic Johannes Leitz, produce some of the very best examples of Rheingau wine. Johannes took the helm after studying at Eltville College and gaining experience at Eser's Johannishof estate, and is now widely recognised as one of the region's flag-bearers. These are pure, powerful, terroir-rich wines from the high, sun-blanched vineyards of Rudesheim.
The Rheingau Region is the only point where the Rhine river flows from east to West as it encounters the Taunus mountains. For 30km it flows due west, exposing a vast south facing slope, which gets progressively steeper as it moves west. It is only the last 6km, from Rudesheim onwards, where Johannes plies his viticultural skills. One speciality and definitively the strength of Leitz winery is the strict collection of first growth Riesling vineyards combined with low yields and highest standard vineyard management.
REVIEWS