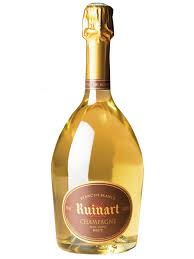 Ruinart Blanc de Blancs
Famed for its lightness and elegance, the Blanc de Blancs is a tribute to Chardonnay grown on the best sites in the Côtes des Blancs near Reims. It has an elegant nose of white flowers , soft fruits and tropical notes. Very fresh, with a subtle yet lengthy finish.
The origins of the Ruinart house go back to 1729 and so the claim to be the oldest champagne house has a lot of justification. Although now part of the Moet Hennessy group (along with Veuve Cliquot, Dom Perignon and Krug) the house is managed along independent lines and the house owns a high percentage of its own vineyards. The Blanc de Blancs is a monument to the Chardonnay grape, grown on the better slopes of the Cotes des Blancs and is made in a consistent style to reflect the aims of the house, namely elegance and balance.
REVIEWS