Steve Young Live @ Excellar Kingston
Live Sessions @ Ex Cellar Kingston
Presents
Steve Young
2nd December 2023 @ 7pm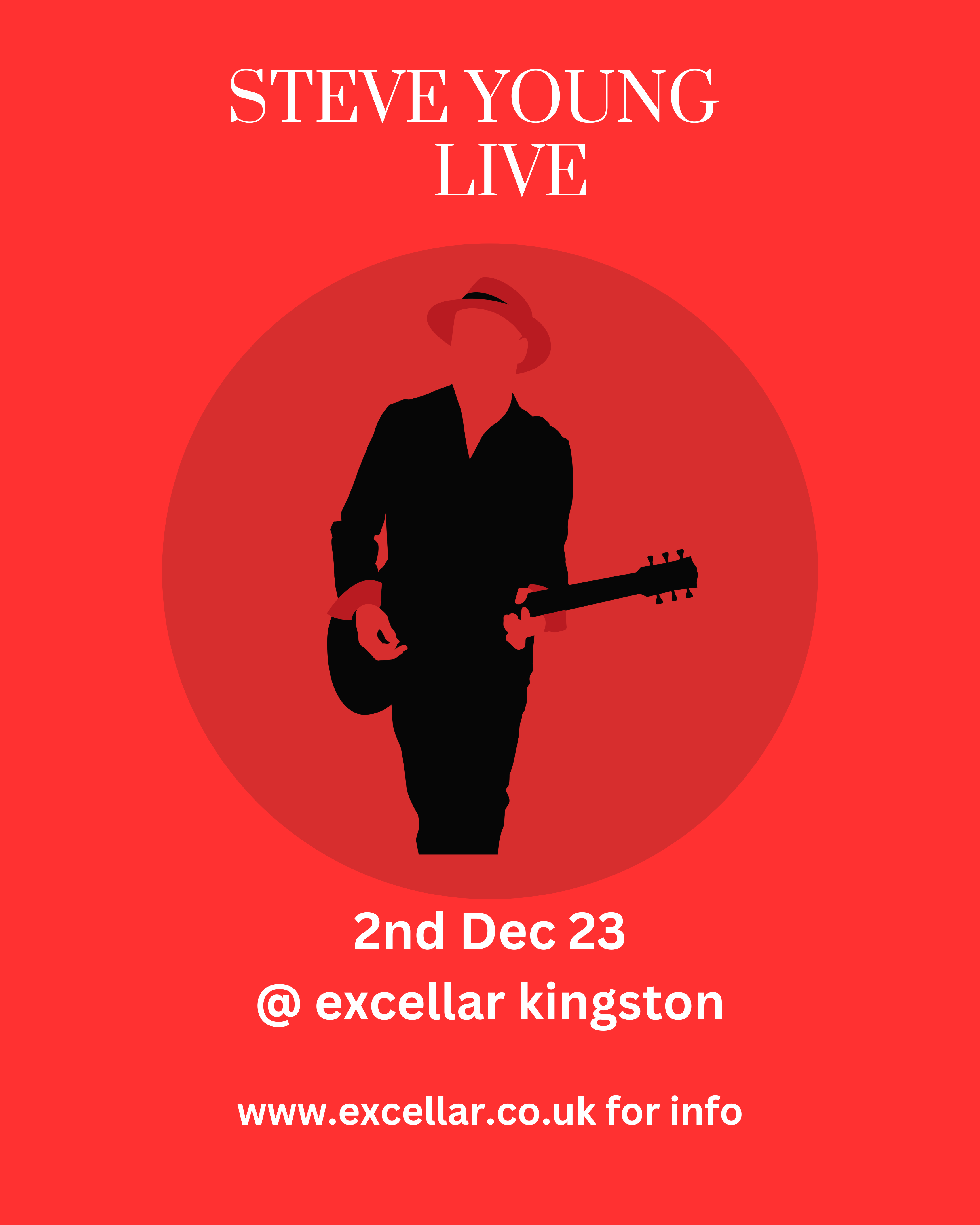 We are delighted to announce our first ever show at our new venue in Kingston upon Thames, with Steve Young playing live.
It has taken almost 20 years to find the perfect spot in our local town. Having taken on the property in the old Market Place, we have been beavering away to make it ready for this weekend, and are delighted that we have a full house for opening night.
Steve Young:
A soulful and emotional performer on Stage. Steve provides a deep connection with his audience playing the guitar in a way that inspired BBC Radio 2's Bob Harris to write "A top talent with extraordinary guitar skills". Chris Difford (Squeeze) commented "A wonderful voice.." when Steve attended his songwriting retreat in Glastonbury. Here he also worked with pop legend & songwriter Nik Kershaw who describes Steve as "Hertfordshire's very own Jack Johnson". At the same retreat Steve was invited to perform a special acoustic version of Sweet Dreams with Eurythmics founder Dave Stewart.
Starting out on the Isle of Wight, Steve soon found himself in London signing a record deal with Warner/ZTT and living the 90's dream of Rock, Tours and Backstage Parties. His career then sidestepped into session playing for artists like Lionel Richie, Peter Andre, Gareth Gates and Delta Goodrem which saw performances on TOPT, CD:UK, Parkinson, Graham Norton. In 2007 he landed the job as full time touring guitarist with Savage Garden frontman Darren Hayes. This continued until 2012which saw Steve co-wrote the opening track and play guitar on Darren's album 'Secret Codes & Battleships'
To date Steve has released three albums and a handful of singles & EP's. His songs are on rotation at Caffè Nero & have received radio play around the globe inc live performances on Radio 2. He performs around 200 gigs per year as an entertainer for corporate & private events as well as residencies at local pubs, bars & restaurants. His Nashville Nights project is a high energy Country Rock show performing regularly at London's St Martin-in-the-Fields to sold out crowds. With his own band he plays local festivals all around Hertfordshire. In 2023 he returned to play the famous Isle of Wight Festival, performing at the Black Deer Festival on the journey down.
When not on stage you will find Steve in various schools teaching Guitar, Bass, Drums, Piano, Performance & Song writing to a wide range of Mainstream and SEND pupils in Bedfordshire & Hertfordshire