Sessions @ Excellar
Presents
Emily Faye Live
Saturday 30th November ' Excellar Claygate
Doors @ 7pm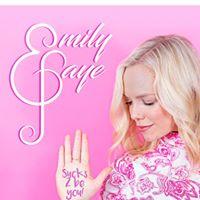 To Book
Friday 14th June @ Excellar Claygate - Tickets for Claygate
Emily Faye's music is a sweet concoction of both Nashville and the English Countryside, her inspiration stems from a love of Songwriting, and a desire to tell her story.
With her debut E.P 'Here I Am' recorded early 2017 during a trip to Nashville, hitting number 5 in the Country Music charts, and being named by Rolling Stone Magazine as 'A New Country Artist You Need To Know' Emily Faye is a name you are sure to hear a lot more of.
Following a great year in music in 2018 with her first debut EP release, First Tour - Write Like A Girl; promoting women in music, First BBC 2 Radio play by Whispering Bob Harris and first TV interview and session on BBC Look East and a number of festival slots throughout the Summer, Faye has been busy in the studio here in London and is ready to share the next part of the journey with the world! Her brand new single 'Sucks To Be You' is Out Now!