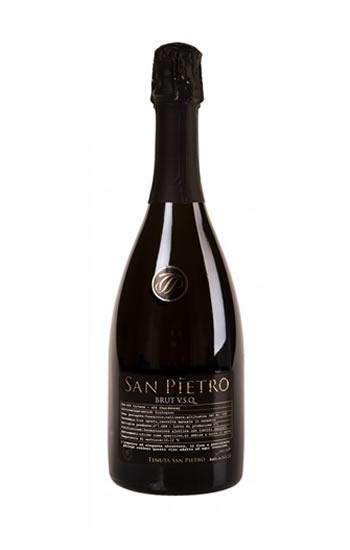 Tenuta San Pietro
San Pietro Brut V.S. .
Made from a blend of the indigenous Cortese grape and the better-known Chardonnay, this sparkling wine has been made from organically produced grapes harvested in August grown at an altitude of 399 metres. Only 11,00 bottles are produced per year. Natual yeasts help to produce an interesting, complex sparkler which combines the lean, attack of the Cortese with the rounder elegance of the Chardonnay.  A great aperitif and a welcome change from yet more prosecco; in fact, it's more a match for better Blanc de Blancs champagne. 
Tenuta San Pietro is situated in Tassarolo in southern Piemonte, home to the top Gavi producers. The hilly terrain and chalky/limestone soils suit the cultivation of the Cortese grape particularly and several of the best prodcers are cultivatiing their vineyards along organic lines. Tenuta San Pietro operates a limited yield policy which means that th wines have more character and definition. 
REVIEWS