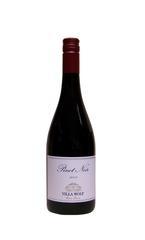 Villa Wolf
Villa Wolf Pinot Noir 2017
Villa Wolf Pinot Noir is warm and medium-bodied, with forward, dark cherry fruit, a firm structure and a spicy mid-palate. Six months of barrique aging gives it a smoky depth and a nice backbone of earthy tannins. Knocks much village Burgundy back into the Rhine without a splash!
"Ernst Loosen took over the historic J.L. Wolf estate so that he could make traditionally crafted Rhine wines to complement the light and elegant Dr. Loosen Rieslings he produces in the Mosel region. In the classic style of the Pfalz, these wines are more full-bodied than Mosel wines, with higher alcohol and pure flavors of ripe fruit and stone.
The Pfalz region lies between the Haardt Mountains and the Rhine River, directly north of France's Alsace region. As in Alsace, the mountains protect the area from harsh Atlantic weather, making it one of the warmer and drier areas of Germany. In this climate, achieving full ripeness is possible in nearly every vintage.
REVIEWS